PC-SCOPE 50MHz WITH ADAPTER - 110V
PC-SCOPE 50MHz WITH ADAPTER - 110V
Skill Level :
Assembled and Tested
---
Buy 10, Get 5% Off!
Buy 100, Get 10% Off!
---
30-day money-back guarantee
Free Shipping in the U.S. on Orders over $50
Buy now and choose from several shipping methods

CLOSEOUT ITEM - WHILE STOCK LASTS.
The PCS500 is a digital storage oscilloscope that uses a computer and its monitor to display waveforms. All standard oscilloscope functions are available through the supplied Windows program. Its operation is identical to that of normal oscilloscope apart from the fact that all operations can be performed with the mouse.
Connection is through the computer's parallel port
and the scope is completely optically isolated from the computer port. The oscilloscope and transient recorder have two completely separated channels with a sampling frequency up to 1GHz. Any waveform displayed on the screen can be stored for later use in documents or for the comparison of waveforms.
Features: comes with adapter: yes (110V) oscilloscope: timebase: 20ns to 100ms per division trigger source: CH1, CH2, EXT or free run trigger edge: rising or falling trigger level: adjustable in steps of 1/2 division step interpolation: linear or smoothed markers for: voltage and frequency input sensitivity: 5mV to 15V / division with auto setup-function pre-trigger function true RMS read-out (only AC component) recording length: 4096 samples / channel sampling frequency: real-time: 1.25kHz to 50MHz repetitive: 1GHz spectrum analyzer: frequency range: 0...1.2kHz to 25MHz linear or logarithmic time scale operating principle: FFT (Fast Fourier Transform) FFT resolution: 2048 lines FFT input channel: CH1 or CH2 zoom function markers for amplitude and frequency transient recorder: time scale: 20ms/div to 2000s/div max. recording time: 9.4hours/screen automatic data storage automatic recording for more than 1 year max. number of samples: 100/s min. number of samples: 1 sample / 20s markers for time and amplitude zoom function recording and display of screens data format: ASCII
comes with adapter: yes (110V)
dso_link.zip
oscilloscopes_cross_reference_uk.pdf
pcs500-100.pdf
usermanual_pcs100_pcs500_k8031_uk.pdf
usermanual_pc-lab2000se_uk.pdf
Specifications:
general information: inputs: 2 channels, 1 external trigger
input input impedance: 1Mohm // 30pF
frequency response: 0Hz to 50MHz (± 3dB)
max. input voltage: 100V (AC + DC)
input coupling: DC, AC and GND optically ISOLATED from computer
supply voltage: 9-10V DC / 1000mA minimum system requirements: IBM compatible PC Windows 98, ME, (Win2000 or NT possible), XP SVGA display card (min. 800x600) mouse free printer port LPT1, LPT2 or LPT3 CD-ROM player includes: PCS500 unit 2 probes PC parallel cable practical manual CD with software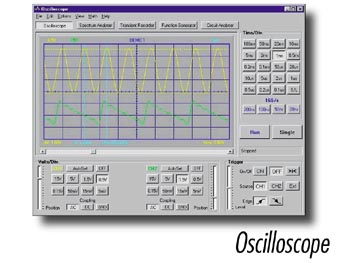 ---